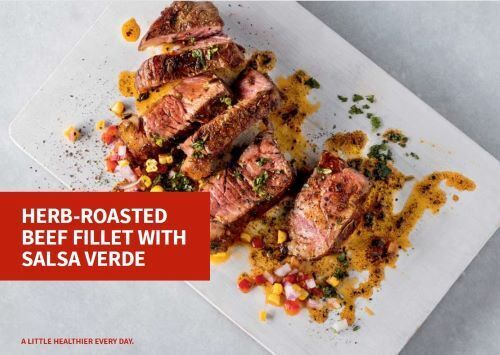 Herb-Roasted Beef Fillet with Salsa Verde
7 servings
60 min
After a long day at work, treat yourself to a tasty, nutritious and easy-to-prepare meal. This Herb-Roasted Beef Fillet with Salsa Verde will not only delight your taste buds, it is also an excellent source of vitamins and minerals. The high iron and zinc content in meat helps your body to produce new and healthy cells, keeps your hair, nails and skin healthy, and it also keeps your immune system strong. And to top it all off, you don't need to slave in the kitchen all day. You can prepare this delicious dish for yourself and your loved ones in less than an hour.
Bon Appétit!
INGREDIENTS
1kg whole beef fillet, sinews and fat removed
4 rosemary, sprigs whole 4 sage, sprigs whole
Large pinch salt and pepper 2 tbsp olive oil
SALSA VERDE
10g capers, rinsed and drained 2 fillets anchovy fillets, drained 1 clove of garlic
2 tsp Dijon mustard 1 lemon juice
100ml extra virgin olive oil 60g flat leaf parsley
30g mint
METHOD
HERB-ROASTED BEEF FILLET
Bring the beef fillet to room temperature and season well.
Rub with the olive oil.
Warm a pan to very hot and brown the beef fillet on all sides.
Place the fillet on a rack in a roasting tray. Bruise the herbs and place the sprigs on top of the fillet. Place the fillet in a preheated 230°C hot oven for 5 minutes then turn the heat down to 200°C and continue cooking for another 5 to 10 minutes.
Check the meat is done – it should be served medium and cooking times will depend on the thickness of the fillet.
Allow the meat to rest for at least 15 minutes and then carve and serve dressed with salsa verde.
SALSA VERDE
Finally chop the garlic, capers, herbs and anchovies in a blender.
Add the Dijon mustard and lemon juice, and then slowly add the olive oil and blend to a slightly chunky sauce with a bit of texture (not a fine puree).
Check seasoning and acidity.
Back to Moodboard